"I want to show every piece of being a woman in a wonderful and dignified form. I want to capture gentle sensuality, wild untamed freedom and even naughty sexiness. Almost every woman has all of these crumbs inside her. Of course they can be differently balanced, sometimes some of them can be hidden very deeply, buried and forgotten but they do exist." Thinloth
Thinloth is an artist living a quiet cottage life on the outskirts of Poland. She lives away from the noise of cities taking refuge with nature along with her furry friends. Her photography is a powerful cannon launched into the world which explodes to create space for important dialogue around women artists. Thinloth is inspired by the complexity and rawness of nature and what it brings to her life. She regards nature as the main source of creation for her work. She says "from waking up to the beauty of Nature that surrounds me – her beauty that can be found in quiet Mists wondering amongst the sleeping Trees, droplets of night Storm vibrating gently on the edges of leaves inspire me." One might think that Thinloth's art creates a beautiful and dark gothic fantasy using visuals like dark gowns, misty woods, shallow water, long wavy hair, naked bodies, and animals, but she believes that it is not a fantasy world but the very reality of her life.
She says "It's just my simple life. It's a reality where I truly feel like myself. My life is without any masks or armor that society has created for me through years of being asked to be someone else to be accepted. The 'fantasy' in my art is right behind the corner for everybody. People 'just' need to open the eyes of their Souls and start feeling. Not just seeing." She believes that her creative process is like a 'calm mess', she juxtaposes two very opposite words to reveal a sentimentality which is more open to acceptance of one's own state of mind and process of creativity.
Thinloth's relationship with nature is the most beautiful connection that is reflected in her work. Her work is composed with nature, like a song in the air descending on the grass like evening mist. Her idea of the self and nature is so romantic. The concept of a romantic self is build around expressions of one's own core and that's what Thinloth does with her art. She expresses the truth of her life by opening her life through snapshots, reflecting her true self and the relationship she shares with her surroundings. Thinloth's interest in visual arts is well developed through exploring a variety of frames and self-portraits. The self-portraits are moments of romanticism captured in a frame. Thinloth's idea of art comes from showing the reality of her being. She captures frames of what she finds on a long walk in the misty autumnal forest and the time she spends with her beloved animals. The relationship she shares with animals is that of a family. As a child, she felt alienated from the children of her age as she was the smallest, funniest mismatched girl with health problems. She says, "As a child, I was excluded by peers. So I ran into another company. Company of animals and trees with whom I talk a lot. Into fairytales which were already written by someone else but also the ones which my imagination was writing in my Soul. So I started to create my own worlds. Worlds that dance wildly deep within me." She wants to remind humans that we are also animals with tools and culture to set us apart but we are a part of nature and depend on it. She believes that her inspiration comes from deep gratitude she feels towards her natural surroundings, on which her life depends on. She believes in visiblising those moments of serendipity that she finds when she is engulfed in nature. She says "I want to remind them about beautiful language without words. Language of feeling. Observing. Language of honesty, truth, and emotions."
Thinloth's self portraits create a fierce image of womanhood by using nudity as a symbol of honesty and naturalness. Her art brings a side of womanhood that has been suppressed since the beginning of time. Thinloth's idea of being women is to be fearless; they are the mistresses of nature, drawing strength from accepting their bodies and being comfortable with themselves. Her idea of nudity comes from a very romantic notion of being one with nature and removing the obstacles the society has imposed on women. She says "For me it's absolutely natural to be nude. It's honest, gives freedom and confidence when I am in my natural surroundings. Clothes are often unnecessary and even a hinder to show my feelings through my work." She deconstructs the perception of women by accepting herself as a witch. Her photographs show naked women dancing around a bonfire like witches or caressing animals or sitting on trees naked. This creates an important dialogue that women movements have often addressed. Witchcraft has been a taboo for centuries and considered evil and promiscuous. Thinloth takes it a step further by reconstructing the idea of being a Witch. She believes that, a witch is a woman of power and capabilities. Her aim is to normalize the natural existence of womanhood and the power that comes with it and the right to exercise that power in its true form and magnitude, without being prosecuted for it. Thinloth is the mistress of misty forests and believes that women can create magic if they believe and become the master of their own lives. Her art opens doors to a new realm where one sees the amalgamation of womanhood and witchcraft. The necessity of disassociation of women from evil is one of the most important concerns of womanhood.  Her romantic approach towards nature and womanhood creates a space of power where a woman can find herself raising towards a self that is emancipated and true.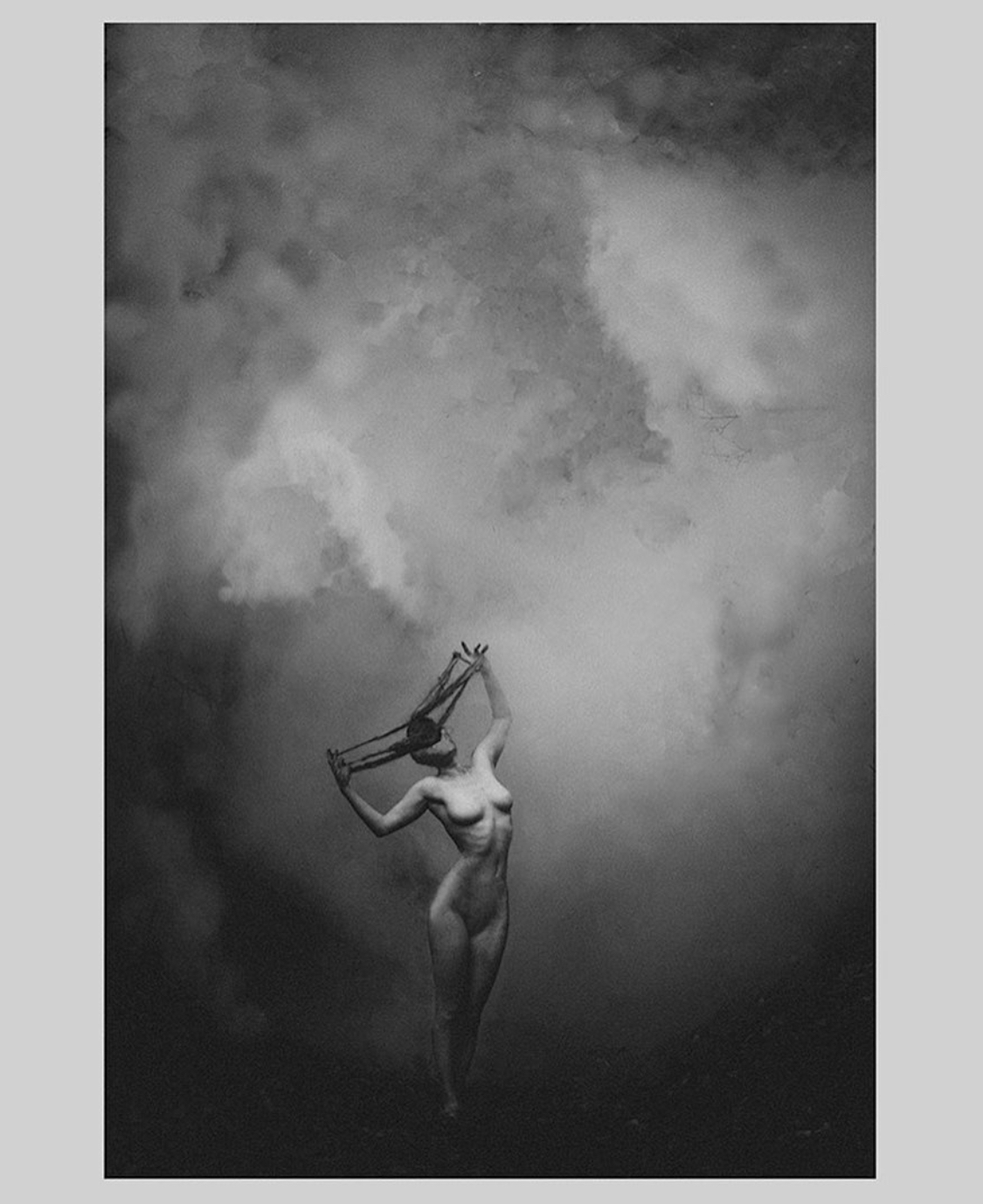 All Images by Thinloth.
Text by Mariyam Fatima.