A series titled Vilayti Shauk by Rohan, blends two polarised worlds together. We see working-class people: a fisherwoman, a chai-wallah and an istri-wallah adorning popular brands like Supreme and Louis Vitton. The contrast immediately catches your eye. We all are aware of the sociology behind these brands. Supreme has built its empire on high demand-low supply. Its logo has become one of the most recognizable ones in recent history. To own Supreme is to be in sync with the times. So, to see a fisherwoman's blouse covered in this logo is intriguing. It leaves a smirk on your face. Fisherwomen are part of our collective
milieu. We have seen them share our train compartments, we have heard their shrill voices yelling out the discounts, we have seen their uni-colored blouses, the scent of fish in the air. Rohan, so skillfully, uses our understanding of this milieu to draw us in and then completely surprise us by merging the fisherwoman with another milieu we all recognize: the American
craze of brand logos.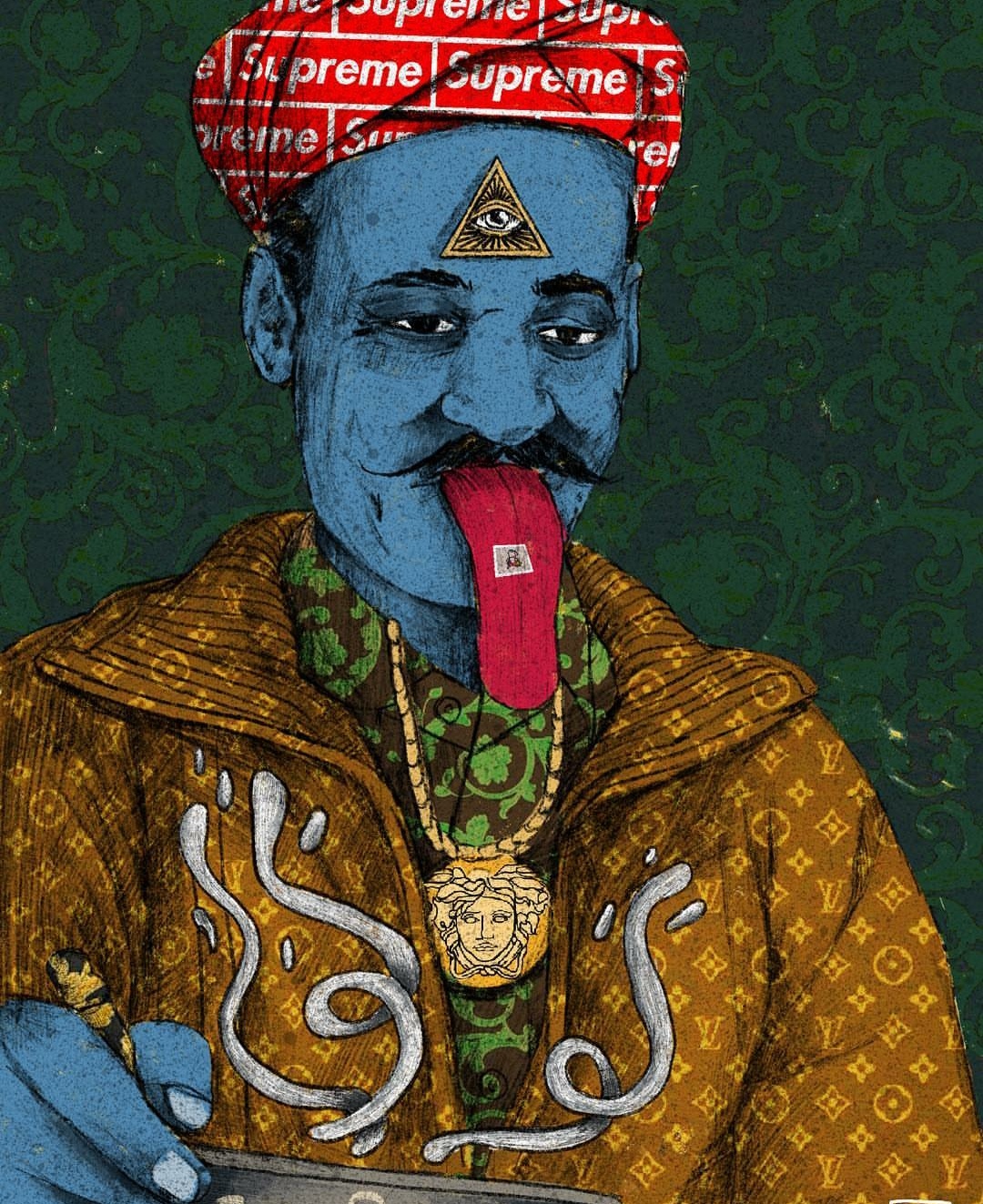 No detail of the artwork is ordinary. Although based on the foundation of reality, Rohan builds upon it with blue skin, Kali-like tongues that roll onto his subject's chests and a tattoo sleeve that sports the Illuminati pyramid. Notice the little details he adds: How the fish's tongue has supreme written all over it. How the woman is holding a joint. The retro sunglasses she is wearing. The stamp on her tongue. Yet, he purposely keeps their recognizable traits: the gold jewelry, the thick set of bangles, the butcher's knife they use, the middle parting of their hair. Another part of the Vilayati Shauk series are the Kolhapuri chappals laden with the Supreme print. Notice how keen the artist's observations are: the little tag that translates to "Please do not bargain", the text at the bottom that says the chappals are a collaboration between supreme and Kolhapuri.
In the painting featuring an Istriwala, an amalgamation of pop influences burst out onto the canvas. A supreme bag, Versace perfume, the iron itself is marked with Lamborghini, the Louis Vuitton shirt. Did you notice how he is not ironing clothes but a sheet of 2000 rupee notes? What a playful yet intellectual way of commenting on our world. Rohan manages to strike a balance: where his comments on our world are not in your face, yet they cannot be ignored. His wit, his adroitness, and his hawk-eyed observations, all come together to form a beautiful blend; meant to satisfy our ever-growing appetite for wondrous art.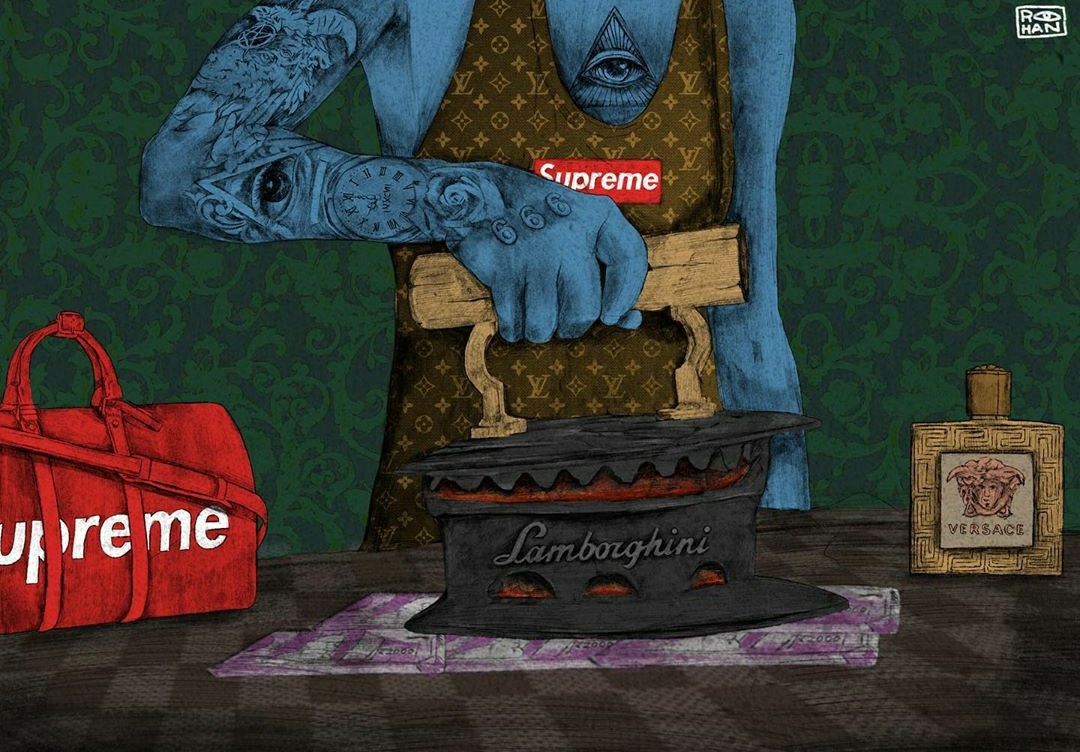 All artworks by Rohan.
Text by Tanmayee Thakur.