An important aspect of making, and even consuming, art is expression. It's the screaming out or mumbling of anything and everything our conscious minds are too occupied, or distracted, to give proper attention to. While that's true for all forms of art, I've always wondered if music has something special about it. If it's not the youngest, most pampered, most free sibling in the art family.
Tajdar Junaid's 2013 album 'What Color is Your Raindrop' makes me want to hold onto this bias with an even more stubborn grip. Junaid's debut album, Raindrop, isn't telling a particular story with particular characters like Lamar's Good Kid or Bowie's Hunky Dory. There's barely any words used throughout; with lyrics in only two tracks, and a recording of his father Junaid Ahmed reciting self-composed Urdu poetry in another one. It appears to be a mosaic of stories occurring simultaneously, some before our eyes and some at a distance with only a small piece visible, and their presence felt.
Eighteen musicians feature in the 10-track album, including Vishal Nayak (Junaid's old band Cognac's ex-drummer), Anusheh Anadil from Bangladesh who provides the vocal harmonies on Ekta Golpo, as well as Kiwi singer Greg Johnson, who recorded the vocals for Mockingbird. Junaid's own list of musical instruments is a long one, including the charango, duduk, oud, and glockenspiel, all of which feature on Raindrop.
When asked about what started him with music in the first place, Junaid recalls:
I was 13 and my cousin played Led Zeppelin's No Quarter followed by Whole Lotta Love. I got hooked on for life. My heart stopped and I got sucked into the speakers. I knew something special was happening like some kind of a weird voodoo but that high was so good, i didn't question. Even today when I am uninspired I become a 13 yr old kid looking for that feeling and realize the power that music commands. You just submit to it. No questions asked.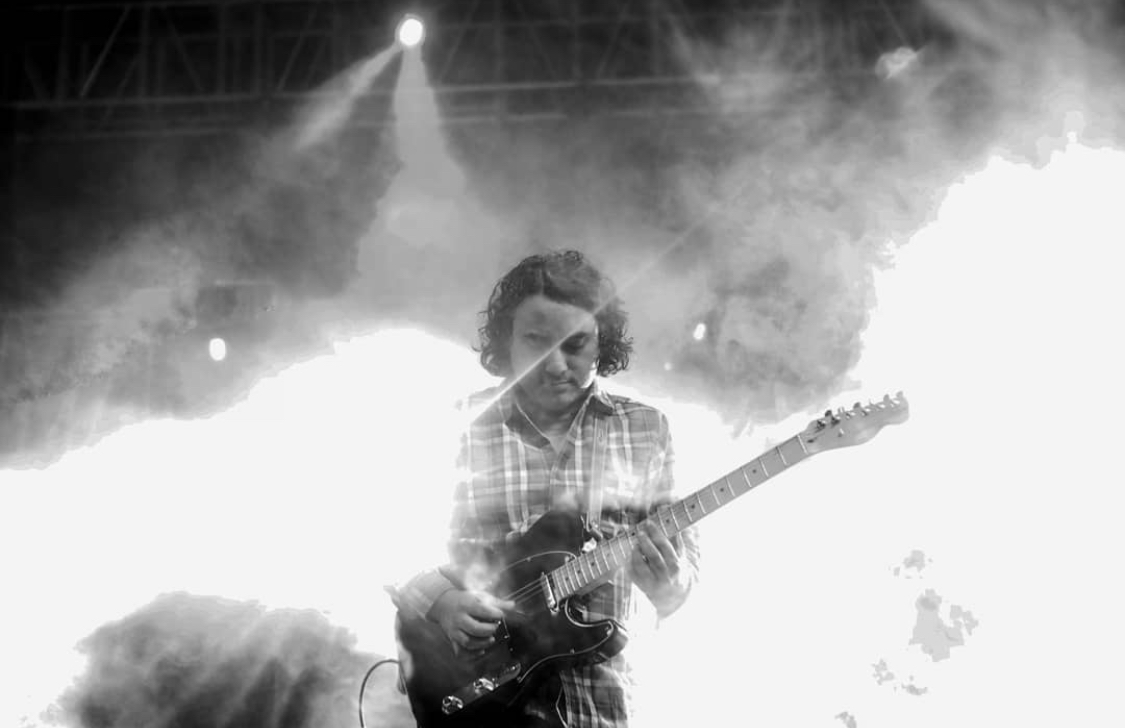 Raindrop seems to encompass this submission; to extend it to the listener too. The first track Though I Know brings us in with nostalgia; through an ending and a loss, but one that has been accepted now. We realize that this world we're entering isn't new; instead, we're only arriving at the moment of a new beginning. A song one can't help singing along to; Though I Know is the perfect entry point into the world of Raindrop.
The next track Aisle introduces us to the silences Junaid not only provides but also creates in his music. The pauses and the subtle modulations around the central motif, create a dynamic sound palette in Aisle and other tracks like The First Year and Dastaan. They force you to notice absences and movements in the music, and to fill them with images of your own, making Junaid's music extremely evocative. In fact, Dastaan was picked by Academy Award-winning director Jeffrey Brown for his film Sold, and one can hear it play in Iranian filmmaker Mohsen Makhmalbaf's The President. Junaid has provided soundtracks for many more films since, including Netflix's Axone very recently.
Junaid has talked about how the sounds and images that have been around him as he grew up are at the center of Raindrop's soundscape. Other than the music, books and films that he's consumed, he mentions the villages and houses he's lived in, his quiet walks in Shantiniketan as his influences. As we move ahead through the album, we can hear these movements and spaces. The fifth track What Colour Is Your Raindrop has Junaid humming to the soft, traipsing, folk-like percussions which emulates a fleeting moment; one where simple inquiries like the color of your own raindrop are casually made without expectation of a coherent answer. Aamna, which is also Junaid's favorite track on the album, is a song he made for his little niece almost like an offering of his love for her. The album ends with Yaadon Ki Pari, which begins with Junaid's father gently reciting Urdu poetry, and gains a very different kind of momentum as the hard drum beats and the electric guitar enter the playfield.
Junaid's music, simply put, is one that you end up superimposing cinema onto. It's one that makes you think of particular scenes from particular stories that you've watched, from ones that you want to make, and ones that you have experienced yourself and play as memories in your head.
(Junaid started off as a music teacher and his students include Nischay Parekh from Parekh and Singh, Ronodeep Bose from Ganesh Talkies.)
Music:
Spotify: https://spoti.fi/2SPtGT3
Apple Music: https://apple.co/2SNlD9m 
Social:
Instagram https://www.instagram.com/tajdarjunaid/
YouTube link https://www.youtube.com/user/tajdarjunaid/
Text by Mansi Arora.
Cover photo by Ramanuj Das.