Poojan Gupta's varied forms of art digs deep into the human mind. Her work urges the viewers' to look into their own selves and their mundane everyday. Gupta evokes a philosophical side of our day to day lives, our relationship with objects around us and the activities we intake collectively as human beings. She moves away from objects as an isolated abstract to embedding it into a philosophy of the human mind and life.
An MFA graduate from Shanti Niketan in India's West Bengal, Poojan now works out of the Indian city of Jaipur. Just as a musician thinks in sounds and rhythms, Poojan thinks in visual language. She is interested in getting into the minds of viewers through fresh and striking visuals.
Her work reveals to the viewers the relevance of the ordinary, like the project Finished. This work is about eating, a very normal act, however she compels the viewer to think more deeply about it. The work reveals the dialectical relationship between a human body/mind and their plate of food. Her interest is not when the plate is full but she explores the plate after the food is eaten; how we converse with our dishes after that. The strokes of human fingers through the residue of food talks about how we develop a relationship with the dish and the act of eating, and how these are not just isolated acts but well thought of philosophical relationships.
The patterns that are made on the plate that forms the work's visual language. This work has been documented over a period of one month; and with every new plate a new association is shown, rooted in different times and coming from distinct thought processes.
Tea or chai is an extremely significant part of a south asian's everyday life, however, for Poojan, the real significance is after the cups of tea are finished. Her other work, Finished II, also plays with the process of finishing. Here she explores the connection between human hands and paper cups; how teacups get shaped and reshaped by human hands. Everytime the cup is thrown in a dustbin reveals a lot about the process of drinking tea, a never ending process of which a deformed cup and a dustbin fill of cups is just a small fragment. This work showcases a bin made up of discarded tea cups.
Finished II urges us to think deeply about this collective love for tea drinking as something embedded into our emotions and thought process, and not just as an isolated act.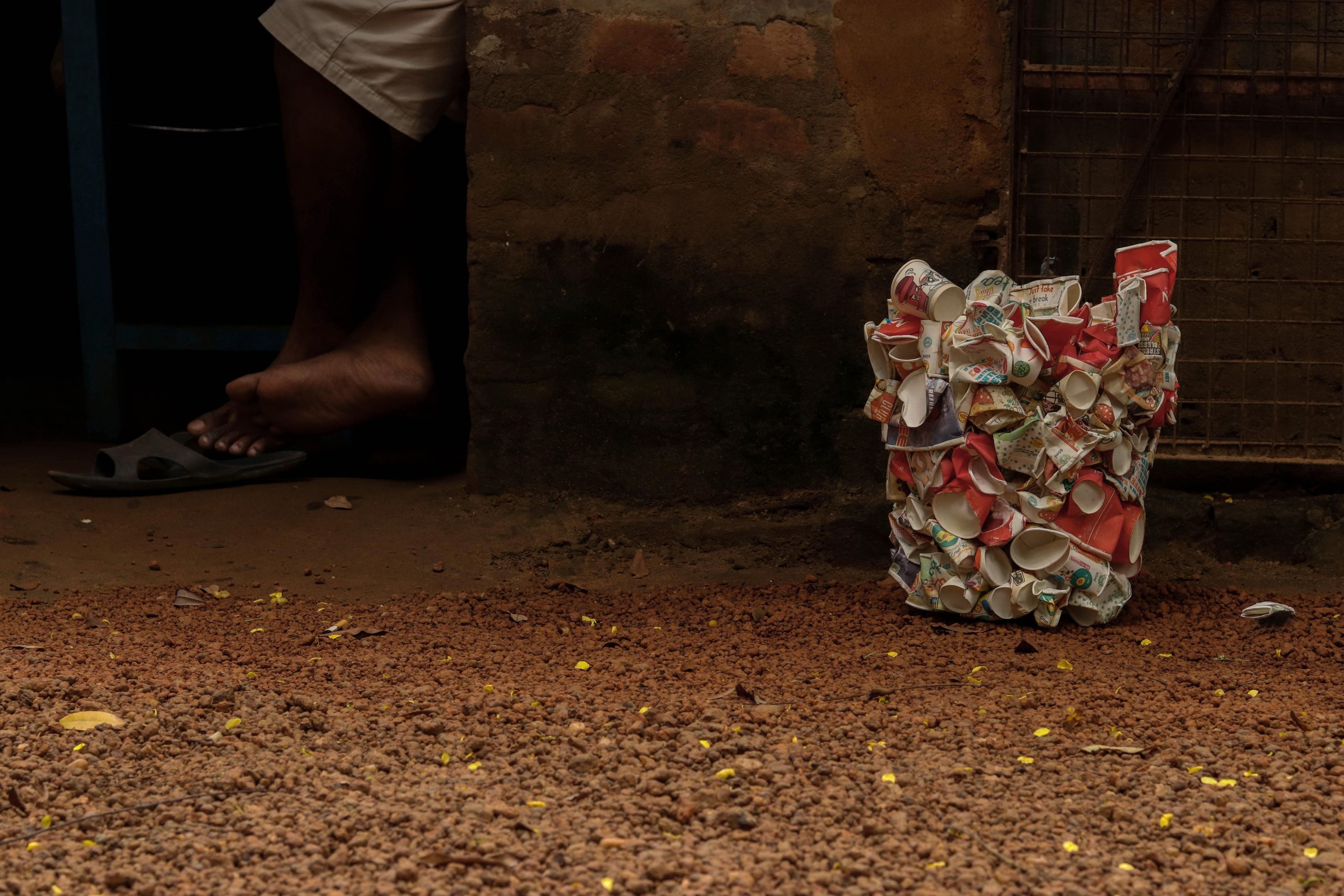 Another one of Gupta's intriguing works titled Take a Medicine, builds on the existing importance and utility of medicines in our lives. However, she explores medicines as an independent unit that gets reshaped and re-explained through human actions and their bond with medicines, specifically, medicine covers. She has attached several medicine strips to make one large medicine strip persuades the viewers to look at an everyday medicine strip through a different lens, detached from the original context. The placement of multiple medicine strips deformed and reformed by soft touches of human hands refreshes that feeling of touch in the minds of the people. Hence, giving a deeper meaning to touch, a more philosophical meaning that makes humans more connected to the strips of life saving medicines, linking literal and metaphorical utility of medicines through her work.
Gupta and her works aim at deepening the human connection with the abstract and inanimate objects in their surroundings.
Text by Nawal Ali.
Artworks by Poojan Gupta.