Wole Lagunju is a transnational visual artist from Nigeria and is currently based in the United States. He grew up in a small town Oshogbo in Western Nigeria where the Oshogbo Art Movement started in the 1960s. Art was a vital experience in his childhood as he was a spectator and participant in the annual Oshun Oshogbo Festival which provided a necessary exposure to dramatic performances, painting, weaving, and dyeing, and other aspects of traditional and contemporary arts. This exposure to art from a young age helped him develop his own artistic vision as a Yoruba artist. He says "My source of inspiration is Yoruba traditional art vis-à-vis contemporary world culture. I am fascinated by the role that culture plays in visual art and theory-making and the different artistic influences and themes that can be derived from it. I am also inspired by the hybridization of cultures and the juxtaposition or conflation of ideas from different and similar eras in world history." Through his art, he also examines and illustrates the factors that have shaped the history of Africa.
When Lagunju moved to the States, he experienced 'diaspora' intensively. Being away from one's culture and the place one calls home can bring a lot of shift in perspective. This diasporic movement also brought changes in Lagunju as an artist. Art became a therapeutic medium to deal with the initial loneliness he faced in the United States. Lagunju is a well-read artist who reflects important literary ideas through his paintings. Writers of Africa have been a huge inspiration for Lajungu as he states, "I have in my undergraduate years at the university taken literature courses in English and Yoruba, my native language. This helped in forming a broad base and well informed literary opinion in my artistic practice." He was greatly influenced by the Nigerian poet Wole Soyinka, who has been honoured with the Nobel Prize in Literature. Soyinka's poem called 'Telephone Conversation' enlightened him on racism and living as an African individual in Western society at a very tender age. Another important influence was Professor Wande Abimbola, a former Vice-Chancellor at the University of Ife who opened his eyes to the cosmology of the Yoruba speaking people of Western Nigeria and the Diaspora at large.
Lagunju's art gives space to a larger discussion and dialogue on 'Africanity' and the history and culture that has shaped the overall idea of 'being African'. His relocation to the Western world reintroduced him to societies with a historical background of colonization and imperialism. Another important aspect of his art is that it deconstructs the colonial idioms that have been typecast to African society and traditions. Western imperialism has dictated many traditions from an occident gaze that leaves the orient with little or nothing of their own. The imperialistic gaze has hijacked the idea of Africa and presented it in through a colonial spectrum which is highly guilty of the oriental formulation. Lagunju's art attempts to decolonize the nooks and corners of African tradition and visibilize them in light of their own. Lagunju as an artist has taken a great task on his hands of painting back to the empire. He says, "my identity, historical background, and traditional culture are part of the baggage which I carry with me as I move within global corridors." His identity becomes an empowering element in his art as he employs the traditional Yoruba art and recreates it in a contemporary fashion. He uses traditional motifs and symbolism like satirical undertones of Yoruba masks, clothes, and colors inspired by his tradition to create a distinctness that Africa deserves. His artworks like When the Gods Came Down, Head of the State, Oyinbo, Renaissance, and Your Features Indicate You Are From Africa are some of the examples of how he combines the traditional Yoruba art with modern western ideas and create a piece which demands a de-colonial gaze.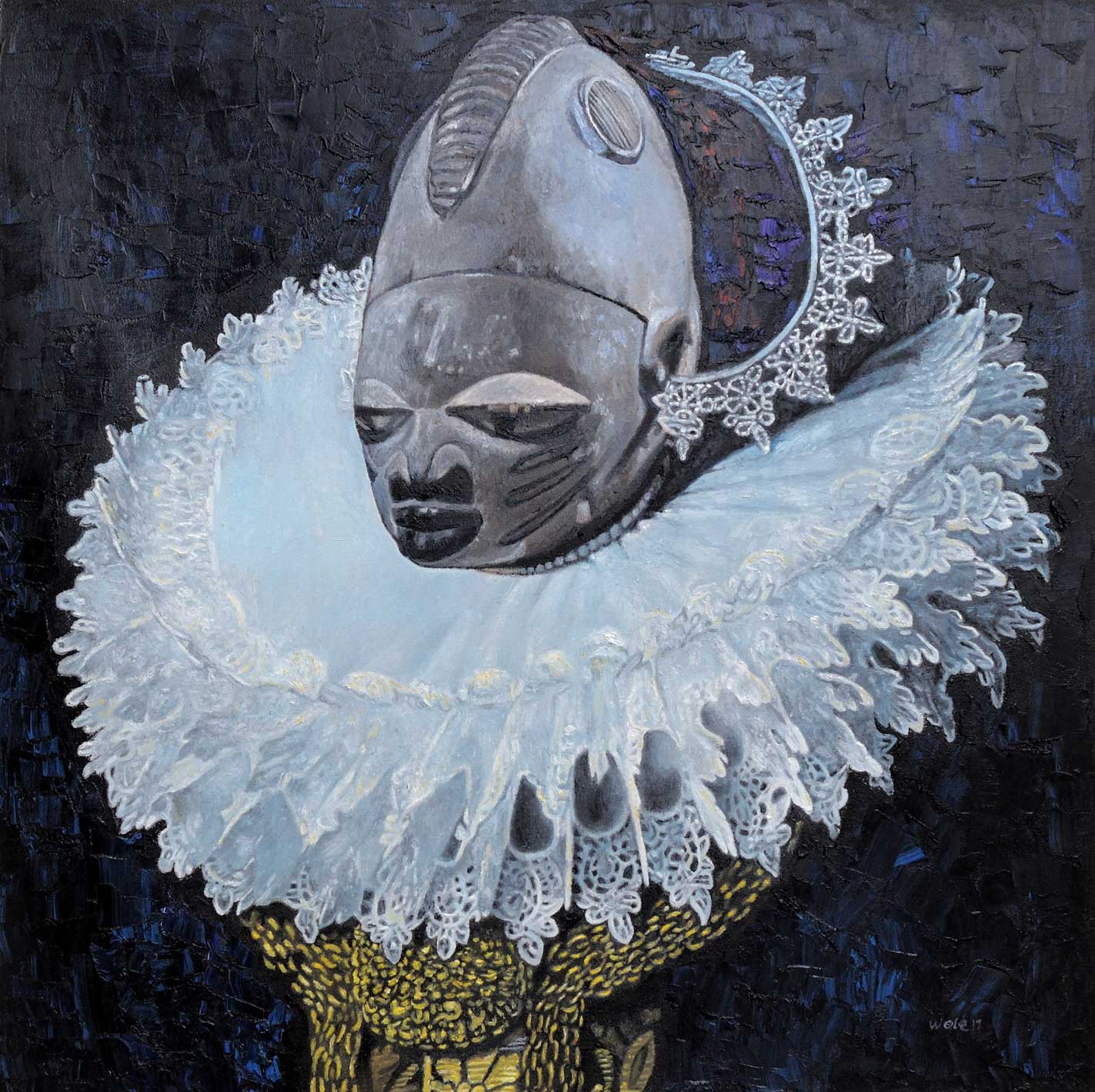 Recent events in the wake of Black Lives Matter Movement have brought Lagunju to a critical juncture in his career and challenged his artistic capabilities. He acknowledges the souring race relations in the United States which creates distraught feelings and an air of helplessness for many immigrants like him in the United States. As a diasporic painter of African origins, he aims to re-imagine and re-contextualise the influence of the West on traditional African and deconstruct the stereotypes around it. Artists like Lagunju are like Irises, flowering in aridity, and blooming in a colour so bold that it cannot be ignored. His art builds a discourse that is much needed in African studies and forces one to look in the face of the real Africa that has been misrepresented and misplaced in an imperialist history.
All artworks by Wole Lagunju.
Text by Mariyam Fatima.
Curated by Romina Bertetti.