Sahaya Sharma is a visual artist based out of New Delhi, with whom we got a chance to speak about her most recent body of work 'Ways of Being'.
One could say that her work and thought process strive towards a utopian nature through an inner quest to decode the complicated workings of the human mind. Both diagrammatic, pragmatic and invested in the aesthetics of movement, layering, and textures, Sahaya's art is a combustion between intuition and experience. She explores the act of painting as documentation, reminder, self-expression, and transformation. Sculptures, tile work, metalwork, and found object assemblages have also been explored alongside painting and use the literary technique of wordplay in their captions.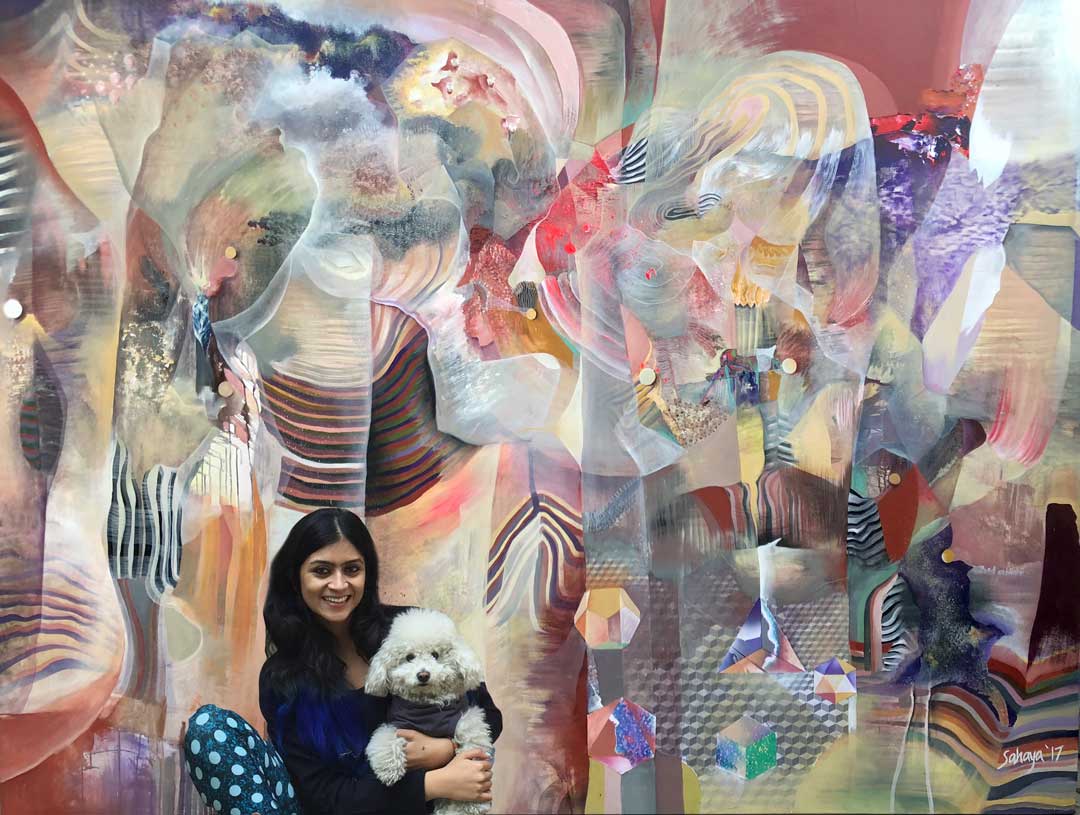 Tell us about yourself, your interests, favorite musicians, places, anything that you would like people to know about you. 
I'm twenty-five years old. My maturity levels oscillate between that of a five-year-old and that of an eighty-five-year-old. Hearts of hearts, I believe I'm an old soul.
I LOVE painting and iPhone photography. I know most serious photographers don't use the phone but it's just so goddamn convenient. Half my life has been documented on film and photos. My favorite people are my dog, Doodle and my fiancé, Keshav. They make my heart chakra explode with delight.  
I'm an absolute music buff and my head is a journal of broken lyrics. I'm more than obsessed with an English indie-rock band called Foals. I heard their song called 'Everytime' (Holy fire, 2013) in one far end of my college studio one night and they happened to be playing a gig at Hard Rock Hotel in Singapore later that week. I remember dancing and screeching the night away with a pair of yellow polka dotted shoes I bought before the gig.
I'm a bit aloof in general; finding weird things really gives me the kicks. For example, I found three abandoned angel heads in cement near my colony park and another time I found an abandoned male torso in fiberglass at a traffic light on 'Mata Ka Mandir' road. These are my studio accolades and I gloat when I see them.
I base holidays around landforms, friends, and museums. Currently, any place with turquoise water and a lot of rocky landforms is the priority.
What's your biggest source of inspiration?
I would say life is my biggest source of inspiration. I'm constantly questioning it and painting the answers.
I seriously can't imagine what my life would be like without art. Just about anything and everything could inspire me at a molecular level. Worms. Windows. Mogra. Magic. Kulfi. Bamboo. Snails. Cat eyes. Zebras. Tigers. Bismuth. Banyan Trees. Concrete. Textiles…
Is there a time when you're not creating stuff and simply taking a break from everything?
Yes, definitely. But even then, my mind NEVER switches off. I'm either thinking about artistic videos I want to make; creatives I would love to collaborate with or various series I would want to work on in the future. To be honest, I feel guilty when I take a break for too long because I'm aware of how easy it is to fall into an endless downward spiral. I don't travel for the sake of traveling or to escape civilization. I travel, as often as I can, to places that spark some inspiration for my work. Also, holidays are the best way to bond with friends and family. They say if you really want to get to know a person, go on a holiday with them!
How do you deal with creative block?
The irony is that when I experience a creative block, I go into some sort of strange denial about it. I trouble my whole family and my fiancé because of it.  They'd have to remind me that I'm probably facing a block. When I'm out of that denial, I read, research, meditate, run and end the night with lighting candles or agarbattis in my room.
Every artist has a process of coming up with ideas and executing them. What's yours?
It's organic. Impulsive. Honest yet ordinary.

I work a lot with feeling…and flashes inspire me.
Off late, I am beginning to understand the value of pre-production in the genre of abstraction. There is a definite excitement when you can be a little objective about your work and get the gist of critique.
What other projects are you working on currently other than 'Ways of Being'?
I'm working on one painting series called the 'Celebration Series.'  It explores the love I have for Indian textiles. I am around textiles a lot now that I'm getting married soon. Most of the times what I have in my mind, I can't find in the market so this series expresses that frustration, passion and understanding of textiles. I'm stoked to show one called 'Kanjivaram Conundrum' from the series at 'Art Now by Art Alive'.
I'm also working on an immersive art experience for Black Cube Productions that is super challenging and exciting. I will be working in collaboration with a projection mapper – Yuvraj Singh. We can't wait for you to come to see (Dates: 12th, 13th and 14th of October @ Vis a Vis, Chattarpur). 
One of my favorite projects includes a trip to Panipat in 2015. It was a collaboration between a weaving factory and artists. I was the youngest artist on board (22) and the bond that the senior artists, the program curator and I had was something that I will never forget. There was so much play but also so much work and guidance. Being around experienced creatives is something I always love to do. They always have a key to give, the lock to which will eventually show up sometime.
What kind of projects do you like to pursue?
Emotional. Ethereal. Inspired by my personal experiences in life. They are spiritual, psychological and even nostalgic in some way or the other.
How to do go about exhibiting your work?
They have to tell a story when they are together. I hate lying and cooking up fluff about what a 'work' means. If I don't know, you won't see any notes besides the work.
I look at doing a solo exhibition every year or year and a half away. I need that much time to reassess or rework the body of work.
What would be that one big thing that all your non-commercial, personal projects are trying to communicate to the audience?
Being FREE.  We are often so blinded by certain ways that we don't know any better or hesitate to accept the unknown.
All text and artwork by Sahaya Sharma.