Christina Quarles is an American artist based in Los Angeles. She studied at Yale School of Art and has been actively working in the contemporary art scenes. She majorly works with acrylics and experiments with figurative emotions, gestural brushwork interposed with static objects and patterns. Her paintings meditate on the gestures of the body in abstract forms and explore the ideas of racial and sexual identities, complexities of gender and queerness. As a queer woman born to a black father and white mother, Quarles has a unique perspective grown out of this multiplicity. She is known for her Trompe–l'œil paintings which is an art technique that creates optical illusion to present realistic imagery in three dimensions.
She experiments with bodies and presents them in a state of abstract merger which can be understood as an intersection of bodies and souls existing in a fixed universe. Her work uses a sense of ambiguity and leisure that focuses on parts of the body like limbs, torsos, and faces encountering and merging with objects of everyday life. The choice of colors adds a strange and unsettling persona to her art and the gestures and body language of the figures add a fierce depth to her paintings. She says, "I knew I wanted to paint about ambiguity, but I didn't want to make ambiguous images." As Quarles gives the viewer a space for interpretation so that they can derive their own meaning, she makes sure that her ideas behind the artworks are also known. The contradiction of identity, race, culture, and being misrepresented as a CIS white woman has been a major area of focus for Qurales as she creates an art piece. She says, "I'll often say that these are portraits, but they aren't portraits of looking at a body—they're portraits of living within your own body. So much of my work is about moments of intimacy when you can actually exist in all your contradictions and complications." Her work attempts to delegitimize the idea of fixed subjectivity and dives deeper into the emotional and physical intimacy of existing within a body.
Her work seems to be in a relationship with itself. The bodies on the canvas seem to be holding onto each other, intersecting in ways that the eyes cannot understand and presenting a way of existence in a realm that is unknown to human eyes. Her art transcends that mortal imagery and reaches far beyond to an intimate world which forces us to look beyond the material existence. Some of her works experiment with different forms and colors and bring together a surreal image for us to ponder upon. The painting called 'When It'll Dawn on Us, Then Will It Dawn on Us' brings together an amalgamation of figures tiptoeing across a surface that is pitch black with pink flowers lighting up the floor.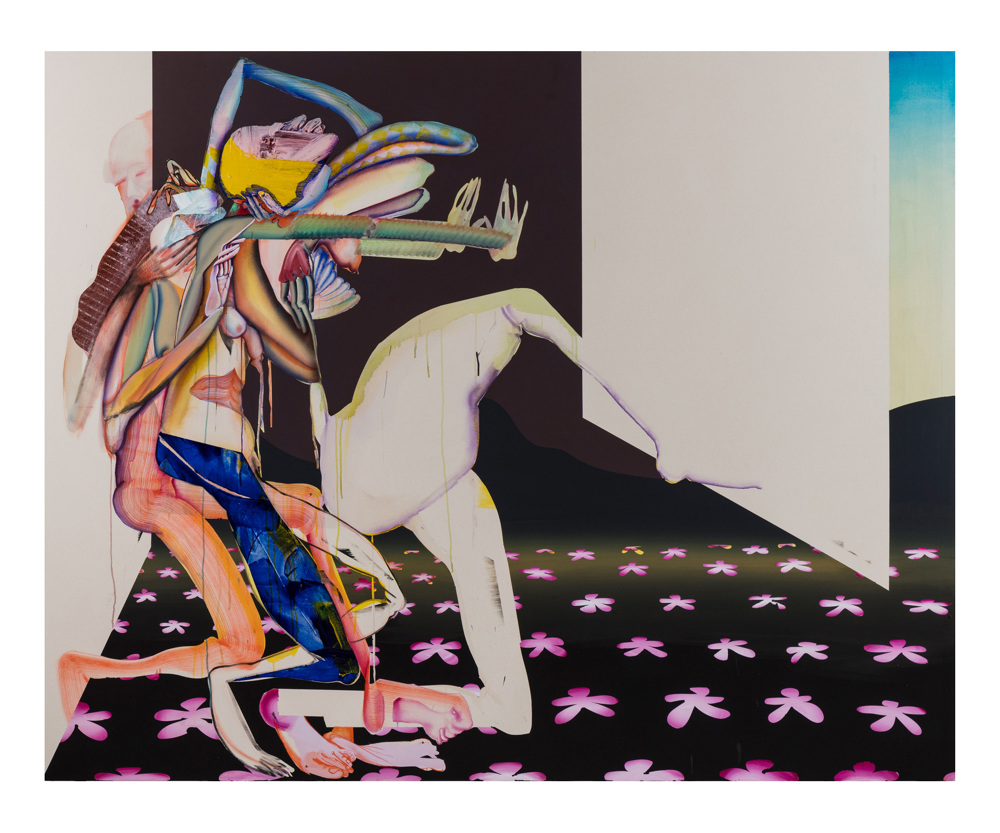 This collection of entangled bodies could be a singular persona emanating from a single soul mediating the complexities a body and mind faces while supporting that existence with contradictions and multitude. Similarly, the more recent work of Quarles titled 'Don't They Know? It's the End of tha World' the bodies are framed into uncomfortable positions. The limbs twist and hug structures like a window grill and freely float into a different space. It almost feels like they are in a ritual dance crushing and cradling one another. Interestingly, the titles of the paintings voice a different kind of culture all together like 'Dint We, Didn't We, Dint We Have a Gud Time Now?', ' We Gunna Spite Our Noses, Right Offa, Our Faces',
'Pull on Thru Tha Nite'. The use of language by molding words into a different pronunciation from a different cultural tongue expresses the conflict and complexities of the identity as Quarles entangles us with her bodies and twists our minds. Her work is a rare sight that makes one uncomfortable and reminds one to look within oneself to understand the larger complex picture of life.
All Artworks by Christine Quarles.
Text and Curation by Mariyam Fatima.