The 9-year-old band Parvaaz that rose to fame in 2012 with their album 'Behosh' magnifying it with another album 'Baran' in 2014 is now ready with their third album 'Kun'. Parvaaz is famous for its undefined style of rock that incorporates several languages i.e. Kashmiri, Urdu, and Hindi. It's only fair that in 2018 Rolling Stone called Parvaaz India's most exciting band right now.
The founding band members Khalid Ahamed (vocalist) and Mir Kashif Iqbal (guitarist), both from Srinagar, were high school friends and went to the same college. They formed the band in 2010, which was further extended by adding Bengaluru based Fidel D'Souza (bass) and Sachin Banandur (drums and percussion) in 2011. What's noticeable is that the 4-member outfit isn't professionally trained in music and it's their passion for rock (mostly blues rock melodies) that has got them the well-earned reputation and following.
'Behosh', their first album, was merely an exercise, a fun thing to do until feedback started to flow in and the Bengaluru band released 'Baran' in 2014. Baran was a poetic masterpiece that revolved around the concept of human nature, the lyrics and tone of the tracks varying from dependency to grief and personal pain. My personal favorites are Beparwah (the first track of the album and a rather cheerful song for Parvaaz), Gul Gulshan (tones down to melancholy), Ghaib (reflects melancholy fairly well) and the album's ending track Ziyankar (which finally engulfs you in pain).
The reason, why I talk about Baran first, is to emphasize the struggle of the then-emerging band to come up with a new album that was better than Baran. Hence, the five-year gap between Baran and Kun. The band only improved with time as they spent almost 2 years on Kun and worked constantly for a month in YRF Studios to get it absolutely right.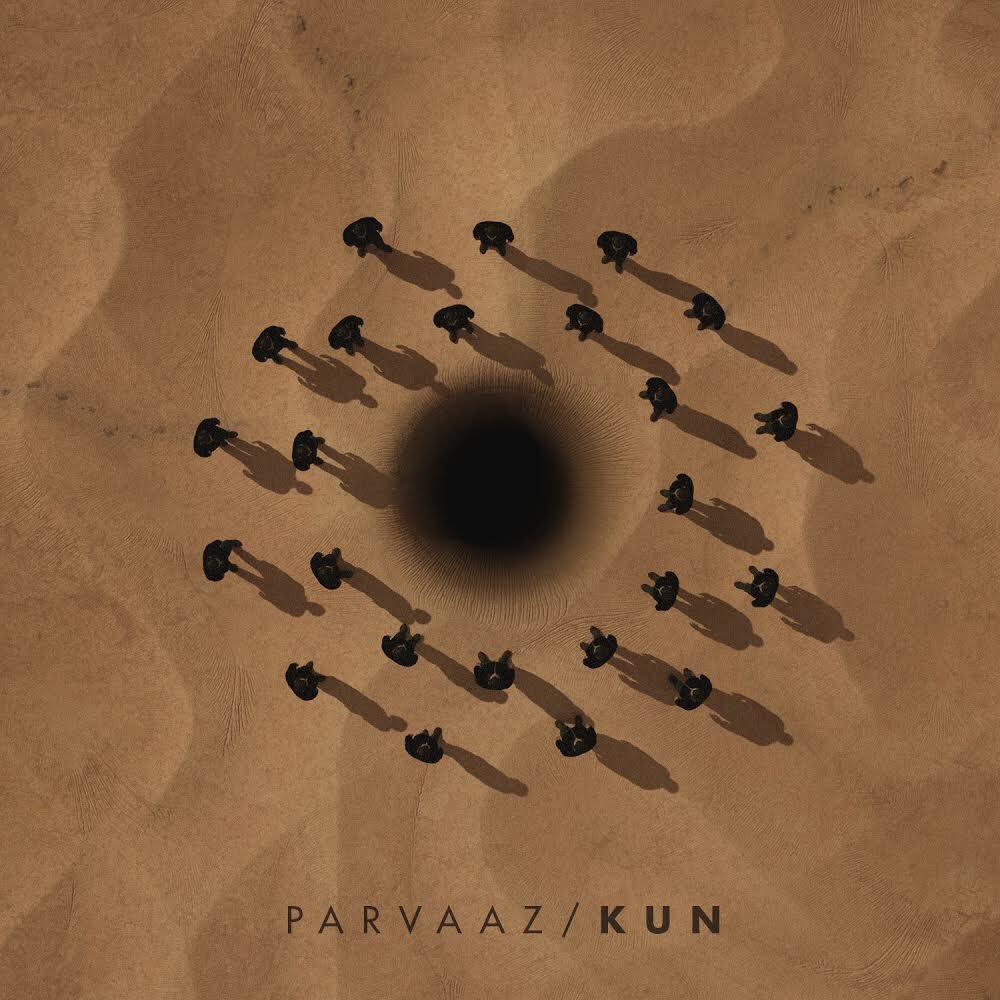 Inspired by Pink Floyd, U2, Indian Ocean and Led Zeppelin, it seems like one hell of a journey for the progressive and classical rock band to have carved a niche for them. While the fusion of languages in their lyrics is unmatched, their sheer dedication, musical knowledge and untethered passion to build a space for folk and rock together is commendable.
Let's come to their 9 track album, Kun, a well-written story around the philosophy we all often discuss i.e. existentialism. Kun ('existence' or 'the act of being') starts with an eponymous instrumental piece. It carves a hole for you, much like their album art, and sucks you into the questions that await you. Harf ('word'), starts on an eerie note and emphasizes the importance of the word itself indicating personal pain. The third and the shortest track of the album is Mushq-e-Gul ('the scent of rose'). It's a personal favorite for all good reasons. The poetic value of the track is praiseworthy and so is the effortlessly nihilistic tone to it. You barely notice the drift from Mushq-e-Gul to Soye Ja as the effortlessness continues. Soye Ja brings to the mind a dream of pain, longing and regret.
The fifth track Shabaan ('separation') has its lyrics in Kashmiri and the little that I understand of it is that it is a prototype sad song and Khalid's haunting voice tears right into your heart. Zindaano ('captive') on the other hand is fierce, confident and unapologetic. Zindaano, however, digresses into Katyi Rov with no external disturbances at all. Katyi Rov is another Kashmiri track in the album and the longest one. The melancholy mixed with alt-rock is so profound that it's almost unbelievable. The eighth track is another one of my favorites, called Mastaan (a delinquent lover, Deewana). As a matter of fact, Mastaan is one of the oldest songs by Parvaaz, written in 2012 and since then they had been trying to incorporate the track in their albums. 9th and the last track of the album, Dasht-Ba-Dasht ('desert-to-desert') is a 7-minute long track. Dasht-Ba-Dasht gives the album a perfect ending as the protagonist calls himself a Faqeer, Mureed and wanders off desert-to-desert.
I believe Kun is yet again a beautiful poetic journey with complementary rock presented to us by Parvaaz as autumn begins and 2019 ends. I can barely wait for the music videos of the same to release and add up to the perspective of the beautiful and haunting album that Kun is.
Text by Afreen Akhtar.
Photo Source: Parvaaz Music (Instagram).