Sullivan+Strumpf presents 'Into Air' by Dawn Ng, a seminal site-specific exhibition
in a historical location in London curated by Jenn Ellis, APSARA Studio.
7 – 23 July 2022
Time – how it flows, echoes, slips, is the subject of Dawn Ng's (b. 1982, Singapore) seminal first solo show in London, located in the living heritage church St Cyprian's, Marylebone. 'Into Air' is curated by Jenn Ellis, APSARA Studio and presented by Sullivan+Strumpf.
An ambitious assemblage of photographic, painting, installation and video, the works explore time held in the ultimate ephemeral object that is ice. Set in harmonious dialogue with the church's minimalist neo gothic interior, 'Into Air' marks a thoughtful engagement with space and context where each work is apprehended as an individual encounter: how it stands, loiters, hangs, gravitates. From tonality to form, material to mood, Dawn Ng prompts us to reflect on the properties of cyclical passing, how beyond numerical chronology time is a matter of feeling and moment-making.
A first encounter is a photographic work. Larger than human height and placed within a bespoke wooden structure echoing the language of church pews Dawn created with EBBA Architects, the work presents a block of frozen pigments. Layered in luscious tones, this ephemeral object presents the source of the 'Into Air' series that takes as a point of departure monolithic fragments with topographical nuance. Created in Dawn Ng's native Singapore, these invariably melt, the colours bleeding into a mélange of tincture. Filmed as they fracture, the slow disintegration is captured in Dawn Ng's time lapse films, one of which is presented in the exhibition. They are also the source of the paintings, where the melted pigment receive a form of resurrection through their incarnation as painterly formulae.
Each element comes together in Dawn Ng's cyclical constellation that favours creation, degradation, dereliction and rebirth. Viscerally emotive, they evoke time's idiosyncratic and pluralistic nature, how it varies between person, location, experience and object hood. 'Into Air' ultimately sings in St Cyprian's, imbuing its walls and historicity with an ephemeral moment, akin to a breath, in which one feels and remembers.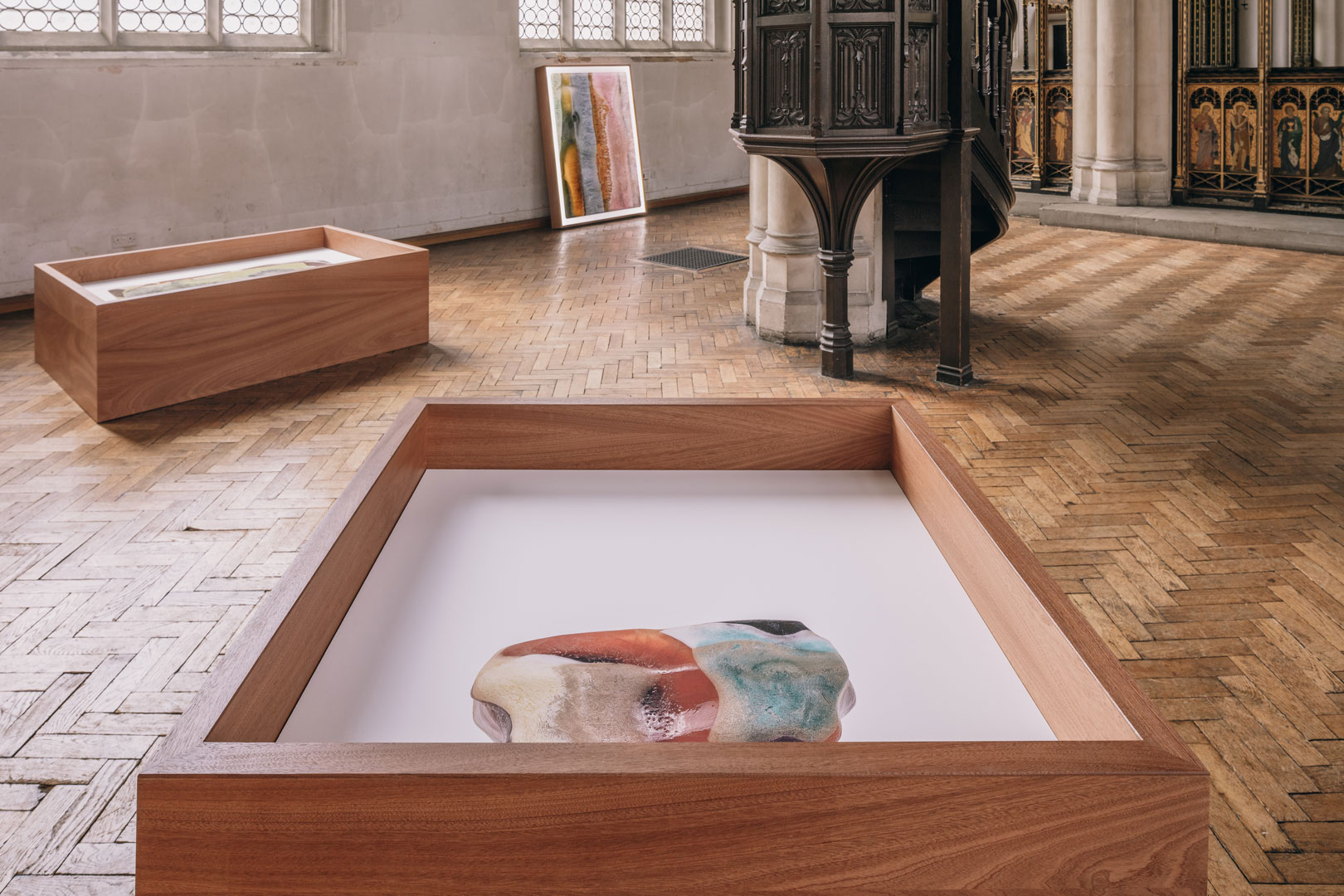 Please contact Jennifer Ellis for all enquiries.
Photographs by James Retief.
All artworks by Dawn Ng.